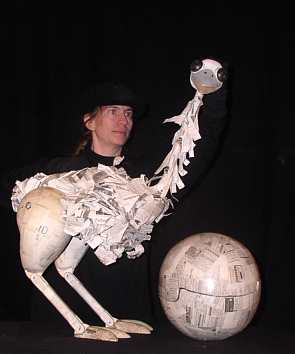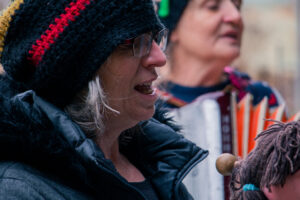 Born in the USA with German roots, Amy Weinstein received her Bachelor of Arts in Sociology and Anthropology in 1987. 
 After a college internship in Bogota, Colombia, she returned there to live and work. During her 8 year stay in South America, she (re)-discovered her interest in and love for theater and so began to focus on learning and training in physical theater, vocal stagework and puppet theater performance. 
 In 1994 she founded Saltamontes Puppet Theater and in 1998 returned to her home country to take time for more intense study, receiving a Master of Arts in Dramatic Arts in the year 2000 from the University of Connecticut.  
In 2004, she moved to Germany.  She has delighted thousands of children, youth and adults in several countries with her performances and workshops and is now based in Bavaria where she performs and teaches theater–in German, English or Spanish with more to come!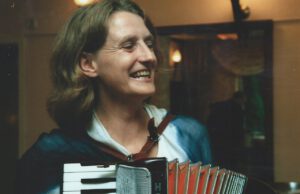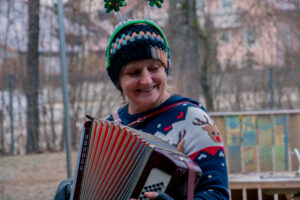 Brigitte Graykastle comes from a small village in the Bavarian Forest. She calls herself "Bavarian's Most Enthusiastic Street Musician"!
After successfully finishing her A-Levels (high school / Abitur) in 1988 in Deggendorf, she began studying languages. First she studied Latin in Regensburg and then headed to the "University for Languages" in Munich from 1989 to 1991. Stricken by a serious case of wanderlust as well as a deep love of French Chansons and Scottish Ballads, she then took off with her accordion into the wild blue yonder! In the following years she sang and played accordion mostly in Scandinavia, Holland and Switzerland until she went to the USA in 1993. In 1996, she returned to her hometown and is now based in the Bavarian Forest.
Besides busking, she also performs at festivals, weddings, birthday parties, markets as well as other kinds of events. In 2007 at a performance at Burg Stefling, she met Amy Weinstein. Since then, they have worked together. Brigitte brings her general artistic creativity to Saltamontes, especially with regards to music, an essential element of each performance.
"Die Welt ist Bunt" Interkulturelles Festival, Ingolstadt 
Puppet Showplace Gala, USA
Sommer am Regenbogen Figurentheater Festival, Germany
International Figurentheater Festival, Germany
Kindertheater Festival, Germany
Euromarionette International Festival, Romania
Puck Theater International Puppet Festival, Romania
Theater Hobbit Puppet Theater Festival, Germany
Kindertheater Festival, GermanyWillimantic County Fair, USA
CT Children's Book Fair, USA
 Arts in Motion, USA
Charter Oak Cultural Center, USA
Litchfield Hills Puppet Festival, USA
Children's Theater Festival, USA
"Kleine Gartenschau" Festival, Germany
Provincetown Portuguese Festival, USA
Celebration of the Arts, USA 
Cheshire Fall Festival, USA
University of Massachusetts Medical School, USA
Windham Arts Celebration, USA
Encuentro Nacional Titiritesco, Colombia
Festival Internacional de Los Martires, Colombia
Festival Internacional del Teatro, Colombia
Raum für Theater, Musik und Bewegung, Cham 
Kindergarten St. Chistophorus,Trasching 
Katholische Kinderhaus Santa Maria, Falkenstein
Waldkindergarten Cham
Grundschule Stamsried
Volksschule Nittenau
Wells-Turner Memorial
Library, Glastonbury
Goodwin Elementary School, Storrs
Augusta Cultural Center, Meriden
Bischof-Wittman Schule, Regensburg
Munich International School, Munich
Regensburg International School, Regensburg
Bildungsstätte Sankt Gunther, Cham
Hauptschule, Zwiesel
Realschule, Bad Kötzting
Centro de Cultura Cota
Colegio Santa Francisca Romana Bogota
Benedikt Stattler Gymnasium, Bad Kötzting
Stadtbücherei, Roding
Stadtbücherei, Weiden
Seniorenheim Sankt Michael, Cham
Stadtbücherei, Deggendorf
Kindergarten Sankt Elizabeth, Andechs